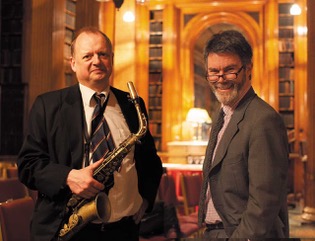 Time :
7:45pm (Doors & Bar 6:45pm)
Address :
Bury Road Stapleford Cambridge CB22 5BP
Alan Barnes & David Newton Quartet
Stapleford Granary
Alan Barnes – Saxophones & Clarinet  Dave Newton – Piano 
Adam King – Bass  Steve Brown – Drums
Alan Barnes and David Newton 
have been playing together for over 40 years. These multi award-winners cover a vast repertoire from Louis Armstrong to Chick Corea and play with an empathy that can only come with long experience. The emphasis, as always, is on swinging, accessibility and interplay. Expect a hugely entertaining programme of straight ahead jazz flawlessly played and interspersed with lots of anecdotes.
Alan Barnes is a prolific international performer, composer, arranger, bandleader and touring soloist.  He is best known for his work on clarinet, alto and baritone sax, where he combines a formidable virtuosity with a musical expression and collaborative spirit that have few peers.
David Newton has been voted best Jazz Pianist in the British Jazz awards for the thirteenth time and has been made a Fellow of Leeds College of Music.