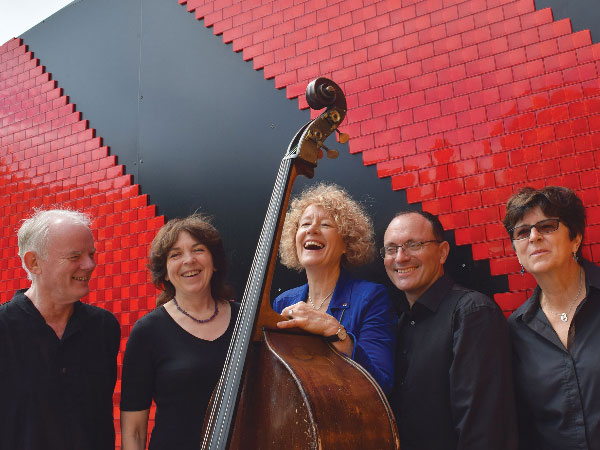 Time :
Doors 7:00pm, Jazz 7:30pm
Address :
43 St.Andrew's Street, Cambridge, CB2 3AR
Alison Rayner 'ARQ' Quintet
St.Andrew's Street Baptist Church
Alison Rayner – double bass  Buster Birch – drums/perc  Deirdre Cartwright – guitar
Diane McLoughlin – saxophones  Steve Lodder – piano 
ARQ Bassist & composer Alison Rayner's award-winning quintet combine richly nuanced compositions, rhythmic interplay and folk-infused melodies; this, along with their love of improvisation, creates a strong sense of narrative and cinematic quality. ARQ play 'songs without words' and are lauded for their vibrant, communicative performances.
Alison Rayner (bass, composer) has been playing jazz and other contemporary styles since the mid-70s. She spent five years in the 80s with critically acclaimed Latin-jazz group The Guest Stars, touring all major international jazz venues and festivals across seventeen countries and recording three albums.
A celebration of life itself.'  LondonJazzNews
'Purposeful, full-toned and melodic…a beautifully integrated band.' The Observer
Visit Alison's website HERE