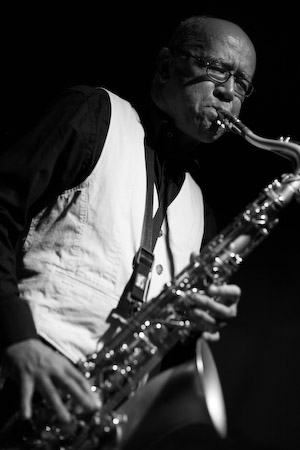 Time :
7:30pm - 9:45pm (Doors & Bar from 7:00pm)
Address :
Gonville Place Cambridge CB1 1LY
Art Themen Organ Trio 'Dizzy Moods'
Gonville Hotel
Art Themen sax
Pete Whittaker organ  George Double drums
Three master players showcasing their latest album of highly accessible jazz from a variety of sources.  Art's legacy in jazz traces back to the very early days of CMJ.  Now making a very welcome return.
Art qualified as an orthopaedic surgeon in 1964 and eventually became a consultant.  Based in London he played with blues musicians Jack Bruce and Alexis Korner and was a member of 'Alexis Korner's Blues Incorporated'
He recalls: "I had pretty much decided that I could continue to practise medicine and play saxophone, and Alexis, being heavily into blues as well as taking in jazz influences like Charles Mingus, furthered my knowledge of music quite a lot.'  After a period in Europe he went on to play with such English luminaries as Michael Garrick, Ian Carr and Graham Collier.
In 1974, he entered on what was to be one of his central musical relationships, playing with Stan Tracey  He has played with all of Tracey's groups, touring with him all over the world as well as around the UK.  Art has also played and toured with numerous high-profile visiting US musicians.
His style originally owed much to the influence of Dexter Gordon and Sonny Rollins, but later influences included such disparate saxophonists as Coleman Hawkins, Evan Parker and John Coltrane.
Following his retirement as a consultant orthopaedic surgeon, Art has been focusing on his jazz career.
'Themen is one of the very few, totally original, utterly engaging jazz musicians around'   **** Dave Gelly The Observer