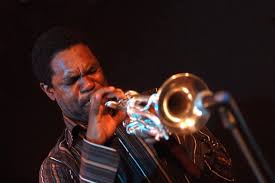 Address :
43, St.Andrew's Street, Cambridge, CB2 3AR
Byron Wallen Four Corners Band – 'Portrait' Album Tour
St.Andrew's Street Baptist Church
 Byron Wallen trumpet;  Rob Luft guitar;  Paul Michael bass;  Rod Youngs drums
 Raised in a musical family, Byron studied piano at an early age, later switching to trumpet.  In a distinguished career he has played with a huge range of top artists including Hugh Masekela, Courtney Pine, Lonnie Liston Smith, and many more.
New album Portrait is inspired by the timeless sound of the human soul from all corners of the earth.  Landmarks of blues, mode and groove are explored and reinvented.  Inspiration is also drawn from Renaissance music, African polyphony and the work of Miles Davis, Wayne Shorter and Herbie Hancock.
Four Corners Band is completed by an impressive line-up of jazz-masters.  Not to be missed!
'…one of the most innovative, exciting and original trumpet players alive'  Jazzwise Magazine