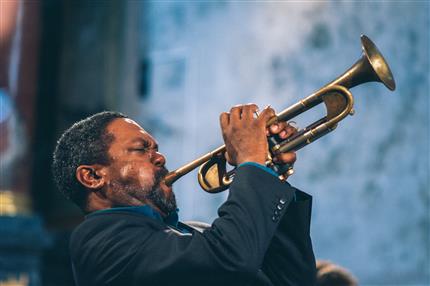 Address :
1, Granta Place
Byron Wallen Four Corners – 'Portrait' Album Tour – CANCELLED
CUC Wine Bar
WITH REGRET… THIS GIG IS CANCELLED
Byron Wallen trumpet,  Rob Luft guitar,
Paul Michael bass,  Rod Youngs drums
Raised in a musical family, as a small child Byron studied classical piano. He also played euphonium but then switched to trumpet, studying with Peter Ruderforth in London and with Jimmy Owens, Donald Byrd and Jon Faddis in New York in the mid to late 80s. In 1992, Wallen graduated from Sussex University with a degree in psychology, philosophy and mathematics.
He played trumpet in various contexts and through into the early 00s was heard with jazz and pop artists, sometimes on record. Among these artists and bands are George Benson, Charles Earland, Chaka Khan, Ingrid Laubrock, Ronnie Laws, Hugh Masekela, Courtney Pine, Lonnie Liston Smith, Style Council, Jean Toussaint, and Cleveland Watkiss.
Describing his new 'Portrait' album Byron says:
'The music for this project is inspired from the timeless sound of the human soul from all corners of the earth.  Landmarks of blues, mode and groove are explored and re-invented.  Inspiration for the compositions was also drawn from early Renaissance music, Central and East African polyphony and the music of Miles Davis, Wayne Shorter and Herbie Hancock.  The album pays tribute to the heart, soul and vibrant provenance of the community I call home.'
Four Corners is completed by a line-up of top class players:
Rob Luft is an award-winning 25-year-old jazz guitarist from London whose virtuosity has been compared to that of six-string legends John McLaughlin, Al Di Meola & Paco De Lucia. He has been described as one of the UK's most prominent and talented young contemporary jazz musicians.  Rob is BBC New Generation Jazz Artist 2019-2021.
Bassist Paul Michael works with many leading artists including Emily Saunders.  Percussionist and educator Rod Youngs is one of the most expressive and adept musicians in the music arena today. His approach to music is intuitive, emotional and all embracing but soundly rooted in the jazz tradition.
Byron Wallen is "one of the most innovative, exciting and original trumpet players alive" (Jazzwise Magazine).