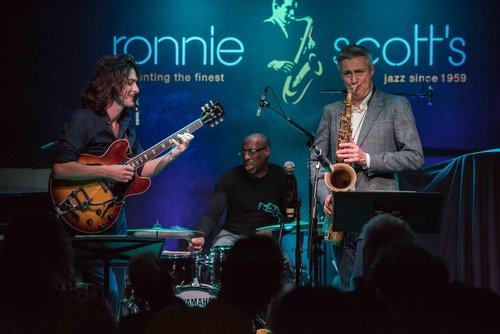 Address :
Gonville Place, Cambridge, CB1 1LY
Dave O'Higgins – Rob Luft Quintet 'Pluto' Album Launch
Gonville Hotel
Dave O'Higgins tenor sax,  Rob Luft guitar
Ross Stanley piano,  Misha Mullov-Abbado d.bass,  Rod Youngs drums
Dave O'Higgins and Rob Luft present their second co-led recording, three years after O'Higgins & Luft Play Monk & Trane. Where the first album clearly did what it says on the tin.  Pluto, as the titlesuggests, comes from another place. Seven of the nine numbers are original compositions by each band leader, and the remaining two pieces are Monk and Coltrane hits that evolved naturally on the road during a 50 date European tour in 2019.
This is straight-ahead modern jazz in the African-American tradition.