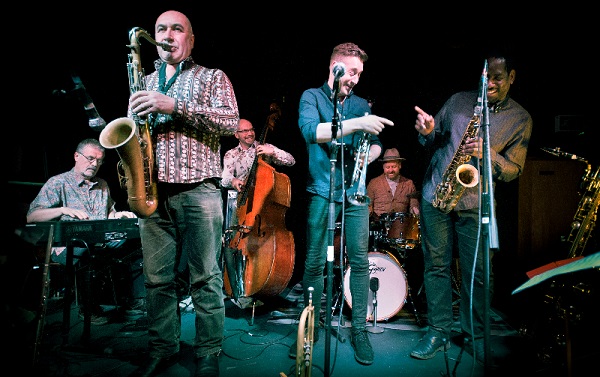 Address :
1, Granta Place, Cambridge, CB2 1RU
HEXAGONAL
CUC Wine Bar
Ross Stanley piano  Jason Yarde saxes  Greg Heath saxes
Graeme Flowers tpt/fh  Simon Thorpe bass  Tristan Banks drs
Celebrating the legacies of jazz stars Bheki Mseleku and McCoy Tyner with six of the best musicians on the scene today.
This high energy sextet, with African and Jazz influences, was formed in late 2016, to perform the music of two titans of Jazz – Bheki Mseleku and McCoy Tyner.  It was an ambition born of love and experience; Simon toured with Bheki while Jason worked with McCoy.  These associations bring an authority and authenticity to the group's music as well as having a strong influence on their original material.
Since the bands inception it has released its critically acclaimed debut album McCoy and Mseleku and has played to enthusiastic audiences at club and festival appearances including  Love Supreme, Scarborough, and Herts festivals as well as concert recordings for BBC Radio 3's Jazz Now and in session for Radio 3's J-Z.
'The band is impressively hip, with the collective chops to glide through complex rhythms (e.g. Mseleku's Angola, Tyner's Fly with the Wind) and gentle latin grooves (e.g. Mseleku's Joy) with equal finesse.
Peter Jones – London Jazz News
Video 'Angola' by Bheki Mseleku