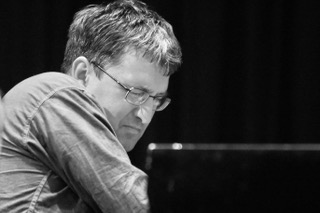 Time :
Doors & bar 6:45pm Concert 7:45pm
Address :
Bury Road, Stapleford, Cambridge, CB22 5BP
John Law 'Congregation' Quartet
Stapleford Granary
John Law, piano, keyboards, samples   James Mainwaring, saxes, guitar
Ashley John Long, double bass, glockenspiel    Dave Hamblett, drums
John Law, a prize-winning classical prodigy on piano, turned away from classical piano studies to pursue jazz and improvised music when he was 23. He has been involved in, and acclaimed for, a wide variety of contemporary jazz and classical projects, from solo piano concerts and albums, through trio and quartet tours and recordings, right through to large scale works for his semi-classical ensemble Cornucopia.
The Congregation Quartet play John's original compositions, designed to mix contemporary jazz and electronics, often playing over electronic music backing tracks and also occasionally mixing in elements from John's past in the form of improvisation from his free improv work in the 1990s as well as going even further back, drawing inspiration from his classical roots.
'One of the UK's most imaginative and versatile jazz pianists' 
International Piano Magazine
'An interesting and highly gifted maverick musician'  
Alfred Brendel