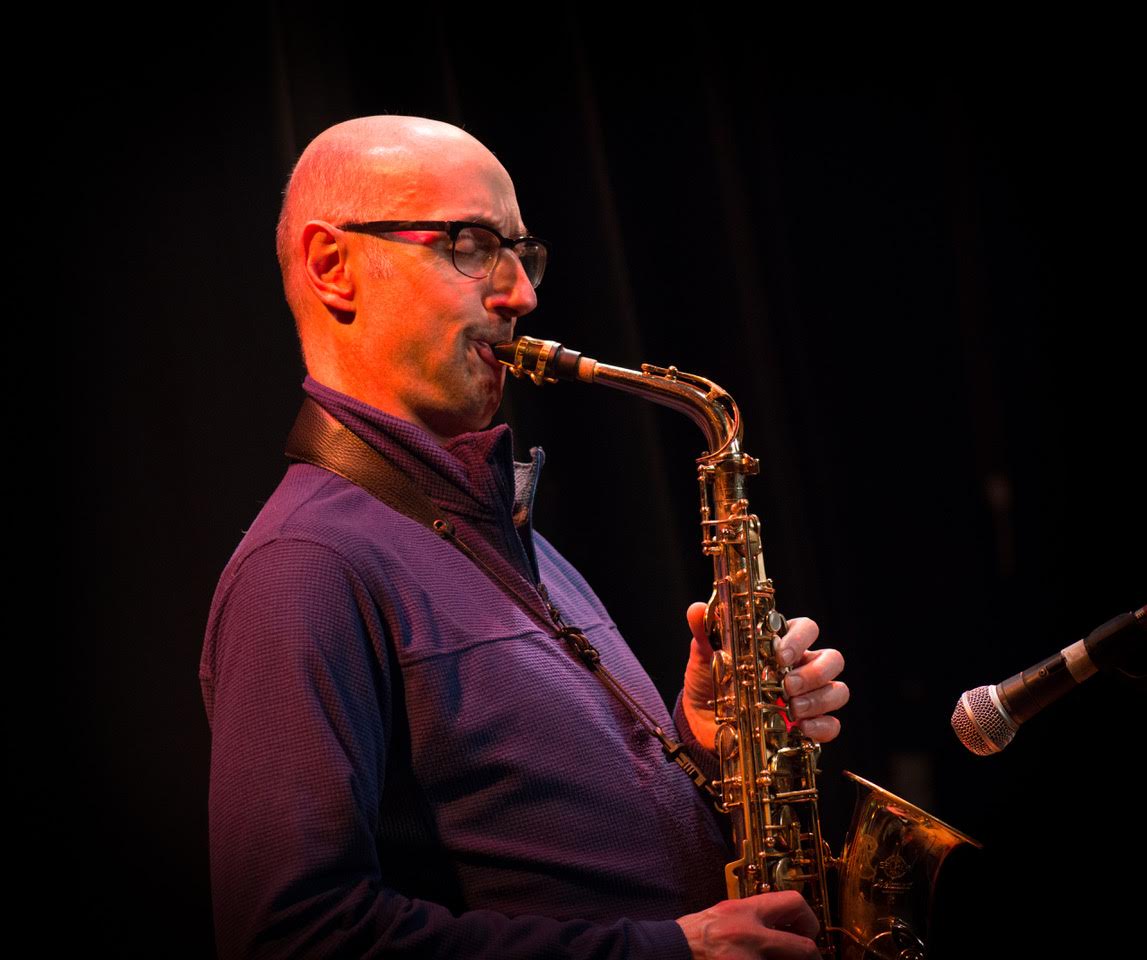 Address :
1, Granta Place, Cambridge, CB2 1RU
Martin Speake International Quartet feat. Ethan Iverson
CUC Wine Bar
Martin Speake saxes  Ethan Iverson piano  Jeff Williams drums  Calum Gourlay double bass 
An all-star quartet from Martin to top-out our winter season.  Teaming up again with long-time partner in jazz Ethan Iverson (Bad Plus), star drummer Jeff Williams and ace of bass Calum Gourlay the band promise expertly cooled vibes to take off the winter chill.
Alto saxophonist Martin Speake continues his collaboration on this anniversary tour with US pianist Ethan Iverson since first meeting 30 years ago in Banff Canada. They toured and recorded as a duo featured on My Ideal playing standard ballads just before Ethan toured the world with The Bad Plus. 17 years later after Ethan left The Bad Plus they performed and recorded again in 2018 as a quartet with Fred Thomas and James Maddren. The album Intention featured Martin's compositions and arrangements of Dancing In The Dark and Charlie's Wig.
Martin Speake is one of the UK's most prominent alto sax players. An Award-winning musician Martin has been at the forefront of the UK jazz scene since the mid 80's. His projects are many and diverse and include personal interpretations of the music of Charlie Parker, free improvising, playing standards with his quartet and Indian music with Dharambir Singh and Sarvar Sabri. He has recorded 23 CDs under his own name, including the internationally acclaimed ECM release Change Of Heart with Paul Motian, Bobo Stenson and Mick Hutton.
"Speake is a strikingly talented improviser with a seemingly bottomless well of inspiration."  – Encyclopedia of Popular Music
"Speake is one of the most interesting and rewarding alto saxophonists now playing jazz on any continent"…Jazz Times
US-born pianist and composer Ethan Iverson is probably best known as a founding member of the iconic New York based band The Bad Plus, a game-changing collective who the New York Times described as "…better than anyone at melding the sensibilities of post-60's jazz and indie rock." During his 17-year tenure TBP performed in venues as diverse as the Village Vanguard and Carnegie Hall and collaborated with the likes of Joshua Redman, Bill Frisell and the Mark Morris Dance Group.
"Ethan Iverson is….endlessly resourceful….there's never a moment when he isn't either launching a new idea or expanding on one"… The Guardian 
London-based double bassist and composer Calum Gourlay is known for his deep warm tone, controlled execution as both a supporter and improviser, and rock solid time and pulse. Born in Glasgow, Scotland in 1986, he began his musical journey playing the cello in primary school and by the age of fourteen started the double bass, having developed a serious interest in jazz and improvised music. Gourlay's talents were noticed by many of Scotland's premier artists, and as a result he became the first bassist selected for the then 'brand new' Tommy Smith Youth Jazz Orchestra as well as other ensembles.
Born in Mount Vernon, Ohio, Jeff Williams began his professional jazz drumming career in New York in 1971. By '72 he was playing with Stan Getz, followed by Dave Liebman and Lookout Farm through 1976. His other associations include Joe Lovano, Lee Konitz, Paul Bley, Bill McHenry, Ethan Iverson, Tony Malaby, Leo Genovese and a host of others.