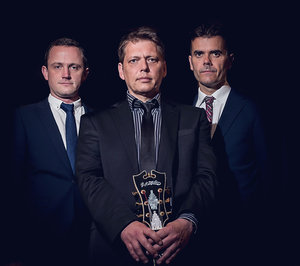 Time :
19:30 (Doors 19:00)
Address :
43 St.Andrews Street Cambridge CB2 3AR
Nigel Price Organ Trio with special guest Alex Garnett
St.Andrew's Street Baptist Church
Nigel Price – guitar,  Alex Garnett – sax, 
Ross Stanley – B3 Hammond organ,  Joel Barford  – drums
Over a career spanning more than 25 years, award winning jazz guitarist Nigel Price has become widely acknowledged as one of the hardest working musicians in the business.  Starting his professional career in his early 20s, Nigel toured Europe with various reggae and funk bands before settling on a solo guitar career and turning his attention to jazz. Citing early influences as Wes Montgomery, Joe Pass, John McLaughlin and the Mahavishnu Orchestra, Nigel honed his craft by attending gigs and sitting in with the players of the time.
The Nigel Price Organ Trio, winners of the 2010 Parliamentary Jazz Award for 'Best ensemble' will be playing selections from their past six albums, as well as music from the as yet unreleased 'Wes Re-Imagined' which sees the compositions of Wes Montgomery reworked into different feels.
In a late change to the originally planned line-up they will be joined tonight by the jazz saxophone virtuoso Alex Garnett.
Expect a night of exciting interplay, virtuosic, blues-drenched soloing and a few laughs too!
Prepare to be wowed by a power-jazz trio par excellence!
Visit Nigel's Website